ASTHMA AND ALLERGY CLINIC
CENTRE OF EXCELLENCE IN HOMOEOPATHY FOR RESPIRATORY DISEASES
Early Detection, Prevention and Treatment of Respiratory Diseases through Homoeopathy
Training Programmes to Homoeopathic Physicians in Respiratory Diseases
Funded by :
Government of India, Ministry of Health & Family Welfare, Department of AYUSH
Managed by :
SOUKYA Foundation Charitable Trust
The Centre of Excellence in Homoeopathy
SOUKYA Foundation has been in the field of patient care through Homoeopathy since last 25 years. We have a huge data base of patients treated with this system. Seeing this work of the foundation, Government of India has recognized SOUKYA Foundation as Centre of Excellence in Homeopathy for Respiratory Diseases. Through this centre this work is being taken to the masses and treatment is provided to the poor and needy. The Centre of Excellence is funded by Government of India, Ministry of Health and Family Welfare, Department of AYUSH and is maintained by SOUKYA Foundation Charitable Trust.
The salient features are:
A 30-bedded hospital situated in the heart of the city.
Both inpatient and outpatient facility.
Free clinic evening 2 pm to 6 pm from Monday to Saturday.
This centre admits, evaluates and plans the treatment protocol.
Excellent in providing management of respiratory diseases.
Working towards the prevention of respiratory diseases by early lifestyle changes and education of the public.

ACTIVITIES OF CENTRE OF EXCELLENCE IN HOMEOPATHY FOR RESPIRATORY DISEASES
CONDUCTING WORKSHOPS AND SEMINAR

CONDUCTING FREE MEDICAL CAMPS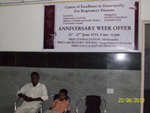 Medical camps are conducted on a regular basis at our clinics and also at different places in the city to spread public awareness and doing community service.
Preventive medicines are provided during the time of epidemics. Some of the successful medical camps we conducted in the near time were for Chikungunya and ganstroenteritis. In the camps general checkups are done and medicines are given wherever necessary. Our focus is on prevention of illness and health promotion and create awareness.
Some of the dates when the medical camps were conducted recently:
| | | |
| --- | --- | --- |
| Rajajinagar | July | 2006 |
| Tippasandra | December | 2006 |
| Rajajinagar | April | 2007 |
| Udaya Nagar | July | 2008 |
FREE CAMP AT CENTRE OF EXCELLENCE
Free camp was conducted for one week from 21st to 27th June, 2010. About 224 patients were benefited from this camp. The patients belonged to all age groups and were from poor and lower middle class. 224 patients underwent case study and took homeopathic medicines. Free Diabetic and cholesterol tests were done. Free BP check up was done. Free Spirometry test was done to assess lung capacity of patients with respiratory complaints. Free Yoga and Kriya session was also arranged. About 63 patients attended yoga and kriya session.

WORLD HEART DAY
Free Camp was held on 26th September 2010 on world heart day. About 48 patients were screened. Complete blood, lipid test and blood sugar were tested for all for free of cost. All patients underwent consultation and were given Homeopathy medicines their complaints. Some patients were given free diet consultation depending on their ailments. The patients were given free class on yoga and kriyas. The patients with respiratory ailments underwent lung function test.
MOU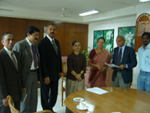 CONDUCTING RESEARCH
Research on A Randomized Controlled Trial of Homeopathic remedies in the Treatment of Alcohol Dependence with National Institute of Mental Health and Neuro Sciences
Research on Homeopathic management of COPD: an effective treatment protocol with PFT in alliance with Central Council for Research in Homoeopathy
To understand the effectiveness of homeopathic medicine in treating and managing allergies and asthma using Spirometry as a tool of evaluation
Study to improve immunity in school going children
Retrospective observation study of 2500 cases of Respiratory Diseases
An observational study of Bronchial asthma using homeopathy and auxiliary methods

CENTRE AT A GLANCE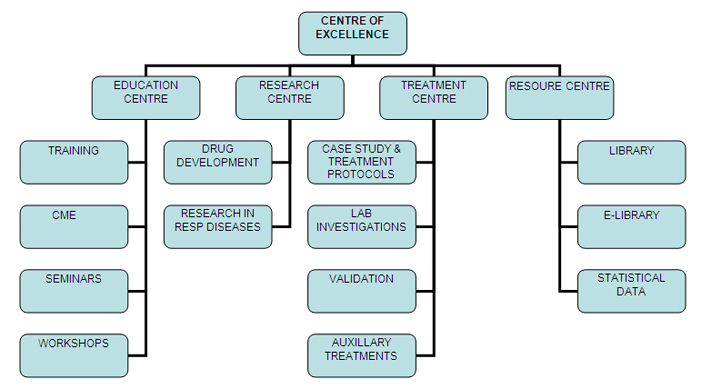 COLLABORATION :
Cipla's Chest Research Foundation, Pune for investigation and validation.
Centre of Excellence
Train leading practitioners in treatment of respiratory diseases.
Conduct Continued medical education programs, seminars and workshops for the benefit of doctors.
Research on Homoeopathic medicines useful in respiratory diseases
This centre with the available statistical data from the past experiences will start working on compiling the appropriate protocol in treatment of respiratory diseases.
Documented auxiliary system which has provided successful results in respiratory diseases
Simultaneous extensive study conducted in drug development in homoeopathy for respiratory diseases.
Document data with inputs from various specialists including immunologists, pathologists and chest physicians.
Create public awareness about respiratory diseases, its treatment aspects and prevention.
Intervention wherever necessary with experts in the field of immunology, pathology and chest physician.
Lab investigations, pulmonary function tests, X-rays and other investigations wherever necessary pertaining to the case will be done, studied and will be a contribution to the respiratory disease.
Be a resource center with world class library in all treatments available to treat respiratory conditions.
Reference centre and library for all research work in respiratory diseases.
Vision
Asthma and Allergy Clinic, Centre of Excellence in Homoeopathy for Respiratory Disease will be the Ultimate Institute to treat, to train and to manage Respiratory Diseases at International Level by Effective, Well Proved Homoeopathic medicines and Auxiliary Treatments.
Tariff :
OP: First time Consultation with one week medicine can be from Rs 150 to Rs 400.
IP: Charges depend on the case and the rooms